Queensland Mining and Engineering
time : 2014-08-13 16:47 Come from : 未知 Read :未知
Australia's abundant with mineral resources and one of the world's most important producers and exporters. It has over 70 kinds of proven mineral resources, including lead, nickel, silver, tantalum, uranium, zinc, coal and iron ores, etc. Queensland is located in the north of Australia with rich mineral resources such as bauxite, lead, zinc, coal, oil, oil source rocks and so on.
QME has grown to become the leading industrial exhibition in central Queensland. QME has become an important biennial event for all buyers, specifiers and industry professionals to come together to catch up on the latest products and technologies, keep abreast of industry trends and network with industry colleagues in a vibrant business environment.
Kevin, on the behalf of Excellence, attended the QME mining exhibition. He had received many visitors and shared information of pump techniques with them. Excellence is devoted to provide professional slurry pump solution to people all around the world. We have undertaken many successful projects in Australia including iron ore processing, coal washery and so on.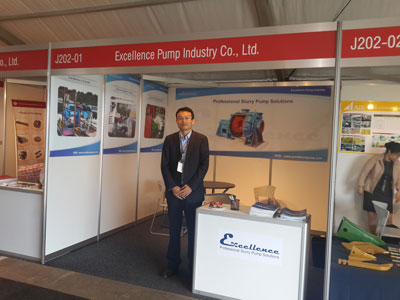 If you have any question, please contact us. We would reply you as soon as possible.
enquiry@excellencepump.com

Tel: +86-10-59626498
Fax: +86-10-59626499